The Wendy's iPhone Contest (the "Contest") is open to residents of Canada excluding residents of the province of Quebec who (i) have reached the age of majority in their province/territory of residence at the time of entry.
During the period from September 27, 2021 at 8:00:00 a.m. Eastern Time ("ET") to Oct 17, 2021 at 8:00:00 p.m. ET (the "Contest Period").
PRIZES AND WINNER SELECTION:
Contest prizes consist of 20 Prizes as set out below (each a "Prize", collectively, "Prizes"). Winners will be selected everyday consecutively for the 20-day Contest Period.
For the first 19 days of the contest period, random draws will be held at the offices of McCann Worldgroup Canada at 200 Wellington Street West, Suite 1300 Toronto, Ontario M5V 0N6 each selection date noted below from all eligible entries received by 11:59:59 pm ET on the day immediately preceding the applicable selection date. Odds of winning a Secondary Prize depend on the number of eligible entries received by 11:59:59 pm ET on the day immediately preceding each selection date.
Odds of winning the Final Prize depend on the number of eligible entrants that tune into the Twitter Livestream event on October 17, 2021 at 7:00:00 pm ET and guess the correct secret voice command.
Maximum one (1) Prize per person. Once an entrant has won any Prize they are no longer eligible for any other Prizes in this Contest.
"Secondary Prizes":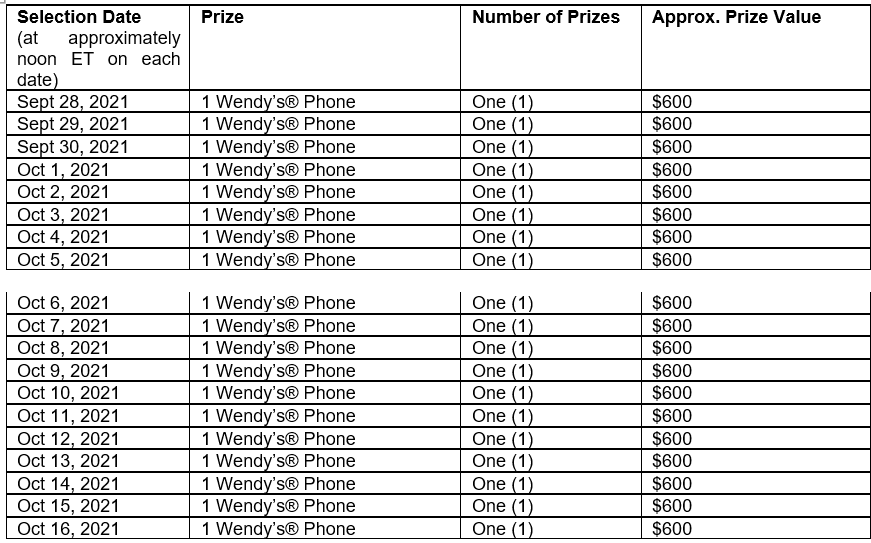 "Final Prize":

All Prizes must be accepted as awarded. No substitutions except at Sponsor's option. Sponsor reserves the right, in its sole and absolute discretion, to substitute any Prize with another prize of equal or greater value. Prizes do not include a SIM card, network service provider or warranty and are only activated once connected to the internet. Sponsor is not responsible for any changes in the value of a Prize which may occur during the Contest Period and/or up to and including the time a Prize is delivered to a confirmed winner. Color and any or all features of the Prize are at the sole discretion of the Sponsor. Winners are solely responsible for all costs associated with the Prizes that are not expressly described herein.
Prize Delivery: Prizes will be mailed to the winner's address.